Cubox and Hummingboard boards¶
Legacy¶
System images with legacy kernel
Kernel 3.14.x with large hardware support, headers and some firmware included
PCI-E operational (Hummingboard Pro, Gate & Edge)
mSATA / m2 operational (Hummingboard Pro & Edge)
Enabled audio devices: HDMI, spdif, analogue
Bluetooth ready (working with Cubox-i/HB PRO on-board device or external key)
I2C ready and tested with small 16×2 LCD. Basic i2c tools included.
SPI ready and tested with ILI9341 based 2.4″ TFT LCD display.
Drivers for small TFT LCD display modules.
USB redirector – for sharing USB over TCP/IP (disabled by default /etc/init.d/rc.usbsrvd)
Bugs or limitation¶
Gigabit ethernet transfer rate is around 50% of its theoretical max rate (internal chip bus limitation)
Mainline¶
System images with mainline kernel
Mainline with large hardware support, headers and some firmware included
PCI-E operational (Hummingboard Pro, Gate & Edge)
mSATA / m2 operational (Hummingboard Pro & Edge)
Enabled audio devices
Bluetooth ready (working with supported external keys)
Bugs or limitation¶
Gigabit ethernet transfer rate is around 50% of its theoretical max rate (internal chip bus limitation)
Desktop¶
Pre-installed: Firefox, LibreOffice Writer, Thunderbird
Lightweight XFCE desktop
Autologin, when normal user is created – no login manager (/etc/default/nodm)
Connect your LCD display¶
I tried two different display connection types: I2C and SPI. Both are working perfectly with my image 2.6 or higher.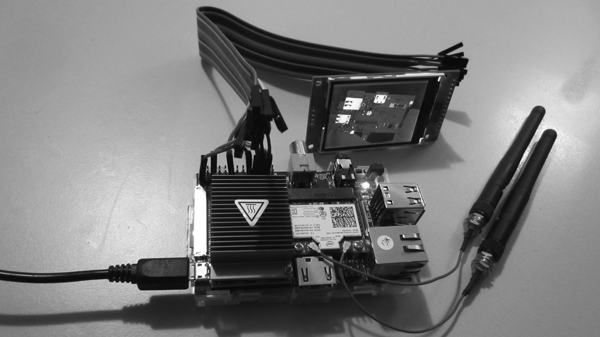 Wire according to this map.
You have to use Armbian 1.5 or newer. Currently working only under Legacy kernel.
Add this to your /etc/modules: fbtft_device name=adafruit22a rotate=90 speed=48000000 fps=50 gpios=reset:67,led:72,dc:195 busnum=1
Reboot
Test – display some picture on the screen: fbi -d /dev/fb2 -T 1 -noverbose -a yourimage.jpg
GPIO¶
How to control HummingBoard GPIO from kernel space?
Udoo Quad¶
Kernel 3.14.x and 4.4.x with some hardware support, headers and some firmware included
Wireless adapter with DHCP ready but disabled (/etc/network/interfaces, WPA2: normal connect, bonding / notebook or AP mode). It can handle between 40-70Mbit/s.
SATA operational
Enabled analogue (VT1613) and HDMI audio device
Bugs¶
SATA & USB install not working on legacy kernel
Udoo Neo¶
Kernel 3.14.x with some hardware support, headers and some firmware included
Wireless adapter with DHCP ready but disabled